ON THIS DAY ... in 1990 at the Bull & Gate
wildness holds the day, with Shoot The Joker, Vicious Kiss and THE WIGS
We'd better start by me pointing out that all three bands were brilliant live bands, as effusively energetic as they were melodic. Also, I love this flyer.
Sadly this post reveals three deaths. We have lost Stuart from The Wigs, and also both Floyd and Debs, the divine frontline duo from Shoot The Joker.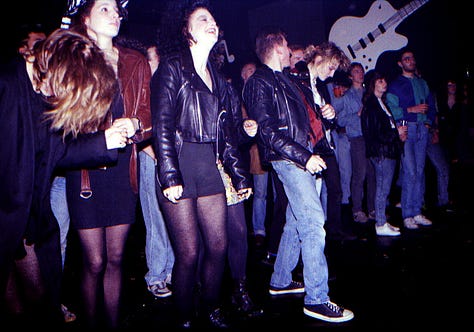 Sadly, no vinyl remains, or Youtube evidence, although I still have a decent demo somewhere. All we have is my 220 page photobook tribute:
You can get this HERE
VICIOUS KISS are on form as usual.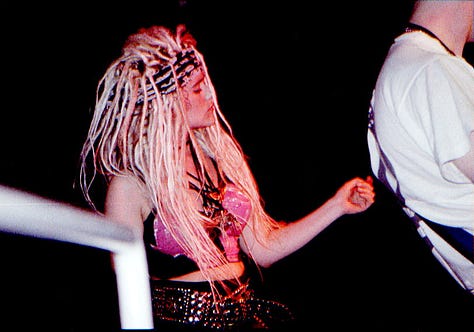 Again, no evidence remains, just my book, this one a 520 page epic that also includes the earlier incarnation of Kitsch:
Nab this HERE
And so, to the main attraction …
Chez of 2 Lost Sons on the left, me on the right. I'm clearly already pissed. Looking back I'm amazed I accomplished as much as I did considering I hardly ever ate and hardly ever stopped drinking. I could still remember gigs perfectly the next day, as well as taking notes during gigs if I was reviewing for the papers, as well as taking photos, and sometimes even helping out in the lights box and, occasionally, filling in on the door when one of the promoters had to deal with something, or go to the loo.
However, this hasn't stopped me messing up some of my negative scan folders, while totally sober.
These three pictures are clearly from a different gig, unless they secretly changed clothes mid-set, and Keith enjoyed a haircut. Luckily, I'm sure Mungo kept a detailed diary on where he wore certain jackets, and when, so he'll be able to correct me.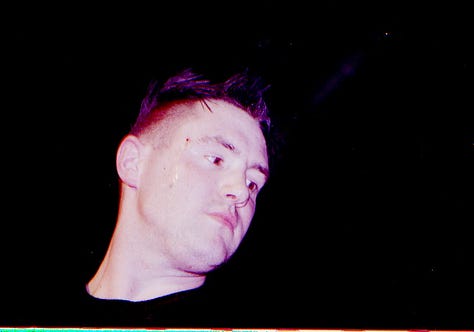 And just one more thing. The lovely Chris Myhill, promoter at the Bull & Gate's POP CLUB nights, also managed The Wigs. Here was the March 1990 newsletter.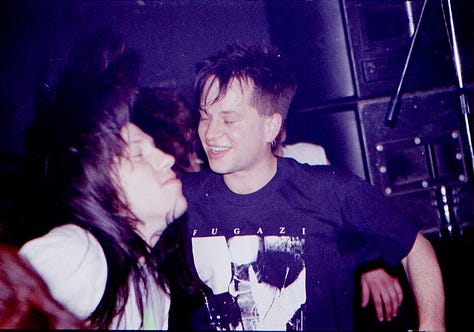 The Wigs weren't the wildest band in town, that was Junior Manson Slags, who were utterly unpredictable in their demented glee. The Wigs had real purpose to how they went about things, but they were the rowdiest descendants of Stooges-style rioting.
And, they have left some evidence. Get thee to DISCOGS and make a note.
Then we ransack youtube, the best thing being a video Keith uploaded:
There's various vinyl rips
And a great variety of songs from a reunion gig (just search Malcolm's videos for the rest):
What there isn't, sadly, is the silly promo vid they did at the Trocadero, with the dead cheap swirly background. I have a copy of that somewhere but wouldn't know what to do with it.
Now, when they did their final gig I cobbled together a brief free issue of my fanzine to hand out that night:
Plus, there's two photobooks, which one day I will doubtless whittle down to a single tome, so grab your collector's items while you may: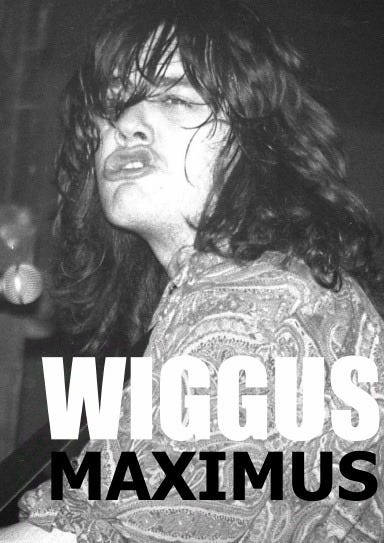 WIGGUS MAXIMUS HERE
Full colour FINAL GIG HERE
And remember, it's always important to hydrate